Trappist blog post Wim Swinnen
From Achel to Zundert

From a gastronomic point of view, do foreign Trappist beers have as much to offer as domestic ones? We put them to the test with beer sommelier Ben Vinken.
In Dock's Café, a culinary institute on the Antwerp Scheldt quays that has since closed its doors, we had two Trappist beers served with each dish. It was a question of appreciating the differences in taste.
With the Austrian and Dutch Trappist Benno and Zundert 8 respectively, we were served Oostende shrimp croquettes with sautéed parsley and lemon on the one hand, and sautéed asparagus with peas, crispy fried bacon and bread crusts on the other.

Benno from Stift Engelszell and Zundert 8 from Abdij Maria Toevlucht turn out to be similar amber beers in appearance and taste - although the former has an alcohol content of 6.9% and the latter 8%. Benno's is an astonishingly dense and firm head, while Zundert's is less dense and disappears more quickly. In the aroma and taste of the Austrian brew, it is hard to miss the pronounced impression of (home-made) honey. It is a round and full-bodied beer, with a nice balance between sweet and bitter.
The latter is also true of Zundert 8, which also has a slightly smoky note and lingers quite a long time. Benno has a little more bitterness and light acidity, is fuller and richer, a little more complex too, and thus emerges as the more complete beer of the two. While the slightly sweeter Zundert can easily stand alongside the salty, sweet and fatty combination of the shrimp croquettes, Benno's broader, harmonious palette of flavours is a perfect match for the bittersweetness of the asparagus, the saltiness of the bacon and the sweetness of the peas.
To accompany wild sea bass with southern vegetables, grilled potato and Catalan Arbequina olive oil, we compare Orval with Achel Blond. The perch, with its meaty texture and pronounced flavour, is a nearly perfect partner for the dry, bitter and slightly sour Orval beer, which is seven months young. In terms of flavour intensity and length, fish and beer are remarkably close. The purity on the plate and in the glass is a feast for our taste buds.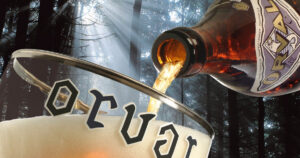 On the other hand, the sweetness and fatness of the garnish - courgette and peppers grilled with olive oil and garlic - are better accentuated by Achel. Even though we are dealing here with a rather unbalanced, sugary beer with little gastronomic potential. A big difference with Orval.
Finally, we have a showdown between Rochefort 10 and Gregorius, the dark flagship of Stift Engelszell, to wash down grilled bavette of grain-fed beef, accompanied by béarnaise and vegetable bouquet. The Hainaut Cardinal of beers is a cracking 11.3%, while its Austrian counterpart has to make do with 9.7%.
Consternation at the smell of both heavy boys: the notorious intoxicating aroma of Rochefort with masses of dried fruit (sultana, fig, plum), chocolate, alcohol and roasted malt has to make way for the truly amazing olfactory wealth of honey, wine yeast, coffee and red fruit of Gregorius that completely overwhelms us. With its beautiful beige head, the Belgian topper just about wins in this discipline, but in terms of taste it has to put up with the Austrian runner-up again, whose subtle acidity is reminiscent of Gouden Carolus Classic and results in a better match with the béarnaise sauce, while the chocolate component of the Walloon pride somewhat clashes with it.
Perhaps the somewhat sweeter and more alcoholic Rochefort is best on its own. Or does it form an altogether happier marriage with blue-veined cheese, a chocolate dessert like moelleux or a good Havanna. And Gregory? This dreamed of companion for a beautiful piece of red meat or game is already a monument.